Couture Candy Event Candy Bar
Regular price
Sale price
$0.00 CAD
Unit price
per
Sale
Sold out
How To Order + FAQ

Updated October 2023

Hello and welcome to Couture Candy PTBO! Please be sure to read all the way through before ordering for important information. Thank you so much!

How to order

Note: Each cart checkout can be sent to ONE address only. To send multiple gifts to different addresses, please complete one checkout per gift.

For someone else: To send a gift to someone special, add the items to your cart (ie. one of our signature boxes!) and complete your checkout, making sure that the shipping address is the address where you'd like us to send your gift and that the billing address is correct for your chosen payment method.

 

Shipping Methods

If you choose this option rates are calculated at checkout. Enter your address to see the options available.

We ONLY ship from our Downtown Peterborough location. Please make sure your cart is filled only with items that are in-stock at this location. You will see a notification in your cart if you have items that cannot be shipped. 

 

Pickup

We offer in-store pickup at our downtown Peterborough shop only. Be sure to only choose items available at our downtown location.

 

Payment Methods

You can choose to pay via credit card/debit card or via e-Transfer. 

To pay by card, follow the prompts on screen as you complete your checkout.

To pay by e-Transfer, choose e-Transfer at checkout, then send payment to couturecandy.ptbo@gmail.com

Please note that e-Transfer is due at time of order, any non-payment may result in your order being cancelled.

At this time gift cards are not accepted online but we are happy to process them in store.

...

Couture Candy PTBO FAQ

Can I send multiple gifts in one order?

Each order will be delivered/shipping only to the address specified. If you would like to send multiple gifts to separate addresses, please create a new order for each gift.

I have allergies, can I still order?

In your cart you will see a spot to leave us a note about any allergies or other customizations needed for your order. We will be sure to check your notes before fulfilling the order.
Our Events & Corporate Candy Bars are here! 

We are SO excited to offer this complete Couture Candy Bar experience for you and your team, wedding, birthday, anniversary or even backyard BBQ for Summer 2022!
Its a fun and interactive experience and team building at its very sweetest!
Let us do all the work!
Couture Candy Bars include full set up, take down and clean up (same day) of our candy bar and everything that comes with it at your event or workplace - how sweet is that?!
Couture Candy Bars can accommodate 2-100 people and includes a variety of loose candy*
The interactive and sweetest part is that your attendees get to create their own Couture Candy containers from the candy selections - think sugar dusted, sour, nostalgic, gummy, spicy, sweet, or even salty! Totally customizable for each person! 
Please read all info to find the package that best suits your event! When you are ready to book please email us at couturecandy.ptbo@gmail.com (a non-refundable $50 deposit is required to book your preferred date at time of booking - this deposit will be reduced from your final invoice)

All Packages include: set up, take down, clean up, signage, personalized event message, 12oz containers for each attendee, business cards, blank cards for special messages to each attendee if requested and, a selection of loose candy varieties depending on the group size 
The small team (up 10 people): $175 - up to 6 candy varieties
The medium team (10-20):  $265 - up to 10 candy varieties
The large team (20-30): $355 - up to 14 candy varieties 
Events and small weddings (30-40 people):  $395 -up to 15 candy varieties 
Larger groups (up to 50 people): $450 - up to 15 candy varieties 
For parties larger than 50 people please email us directly at couturecandy.ptbo@gmail.com
*Add our popular peanut free Bar Snacks Mix to any order for an additional fee depending on the size of your group  
*chocolate and vegan options are available at additional costs for each group when available (fee waived for larger groups of 50 or more)
For Couture Candy Bars requested outside of the city of Peterborough, an additional gasoline surcharge will be added to your invoice (total cost of this additional fee will be given at time of booking and is based on km distance). 
Couture Candy Bars are not available to book for dates July 13-July 27th, 2022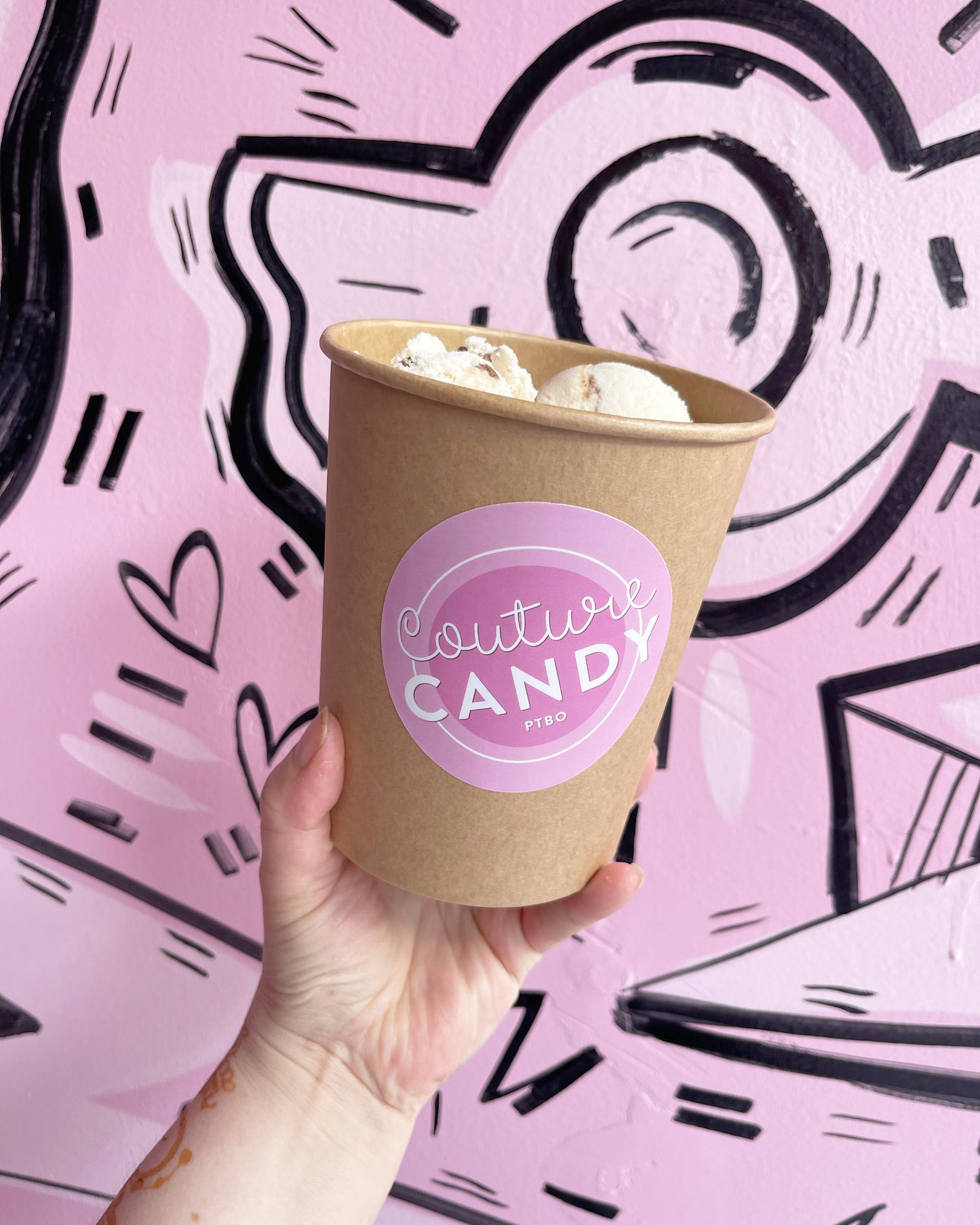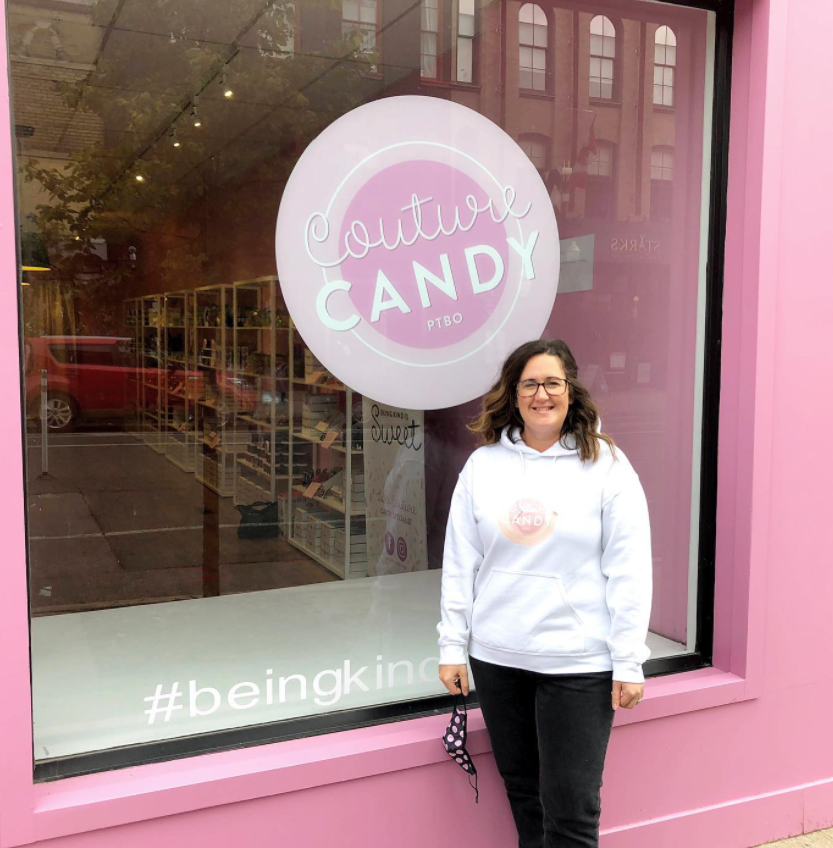 #beingkindissweet
After spending more than a decade in a job that did not satisfy me I decided I had to get out!
With a passion for spreading kindness and supporting others I started Couture Candy PTBO. 🍭
Spreading love and support through candy is my new passion!
- Lisa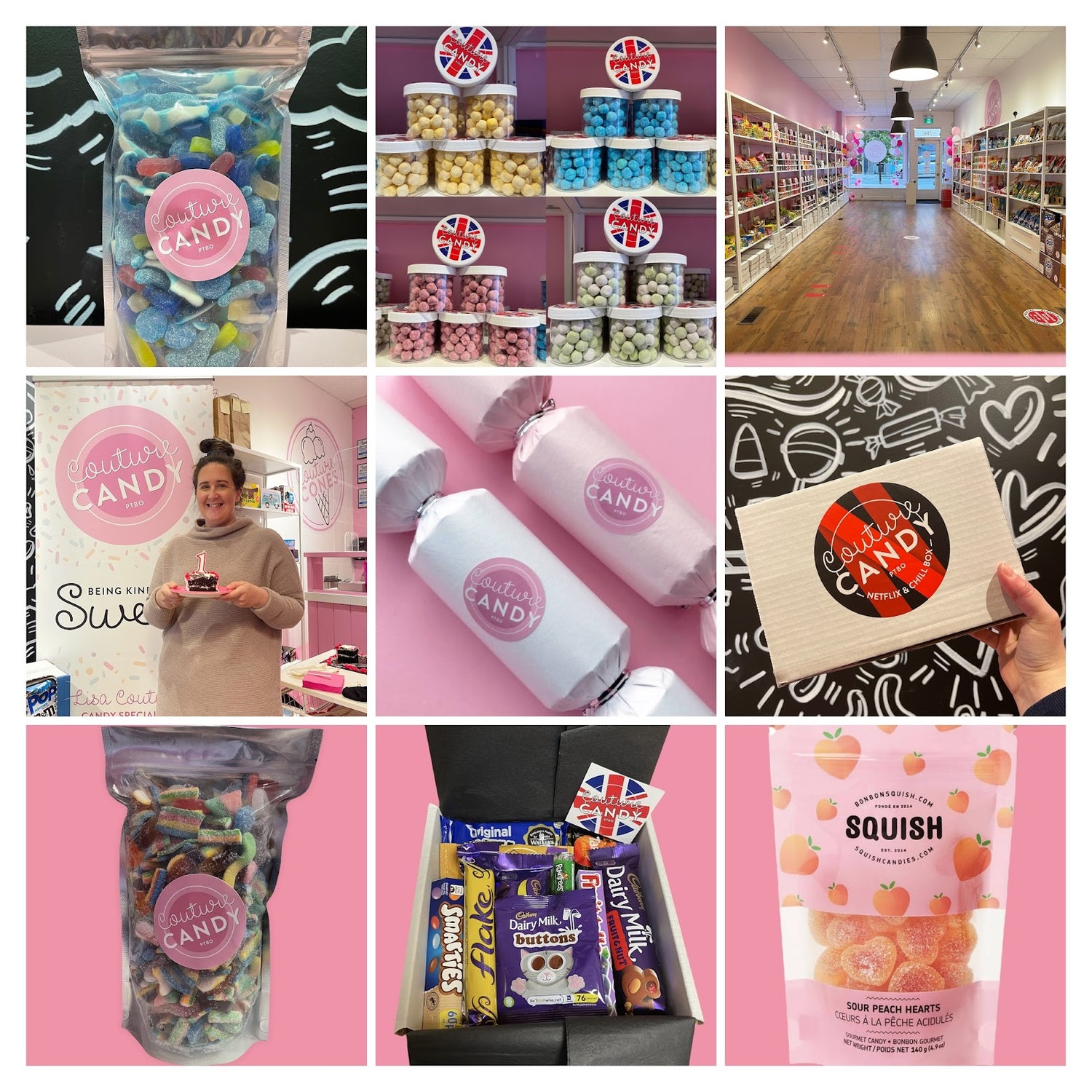 Never miss out!
Stay up to date with Couture Candy PTBO and never miss a restock! We also love sending exclusive offers in our newsletters!
Yes, sign me up!